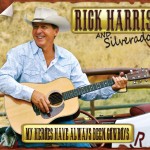 Country music favorite Rick Harris and Silverado have a new release on the Pleasant Valley Music (formerly Squirty Records) label!
Following up on his all gospel release, this time Rick gives us an incredible selection of real classic country hits from the 50′s, 60′s and beyond. These songs, from the likes of Johnny Cash, Waylon Jennings, Hank Williams and several others, are hand picked straight from Rick's live setlist. The album is aptly titled "My Heroes Have Always Been Cowboys" and is now available right here in our store, as well as on iTunes, CD Baby, Amazon, etc.
You can hear track 2 from this recording, Lonesome, On'ry and Mean, by clicking this link.
Posted on August 22nd, 2012 by matt
Filed under: Uncategorized | No Comments »